If someone needs to search anyone using New Mexico state records, learning the ropes behind finding them is the key to actually accessing them. There are two ways:
Use a free New Mexico Records Search tool that gleans public records from all the state databases.
Manually search public records in New Mexico at the state and local levels.
Either way, finding New Mexico state records is quick and easy when the process is explained.
Understanding New Mexico State Record Laws
The FOIA, or the Freedom of Information Act, makes sure that Americans can stay posted about government information. New Mexico has its own public records law known as the IPRA (Inspection of Public Records Act). It allows people to request records without a specific reason. However, documents like police reports have limited use since people shouldn't use them for canvassing purposes.1
Some people opt for third-party aggregate sites because they don't have to disclose much information about themselves, which enables them to protect their privacy. They're also a good starting point for those new to the record-searching process, especially since many of them are free. But even though government sources cost money, their records are usually accurate, and they hold more information than private databases. Overall, individuals have to utilize the resources that complement their needs and lifestyle.
Whatever sources they choose, individuals need to decipher the appropriate courts, correctional facilities, and jurisdiction when locating state records of any kind.
Accessing Criminal Records in New Mexico
New Mexico criminal records mainly contain any DUIs, convictions, and/or arrest charges. Shelter managers and potential employers examine a person's criminal history to see if they exude a safe or dangerous presence. Some individuals with a criminal record can start anew, provided that their crime was a mild offense.
Can Private Citizens Find Someone's Criminal History in New Mexico?
Because of the IPRA, criminal histories are New Mexico state records that are open to the public. With that said, criminal records maintained by the NMDPS (New Mexico Department of Public Safety) can only be accessed by the subject and authorized individuals. Private citizens can't request these.2
How Do I See if Someone Has a Criminal History in New Mexico?
The NMDPS offers a criminal records repository that allows individuals to get fingerprints. As stated before, people can only use this service to obtain their own criminal histories. (Employers and other authorities are exceptions to this rule.)
Someone can request electronic or manual fingerprinting:
Electronically – They have to register through Gemalto and pay by credit card, money order, or agency. Afterward, they locate the Gemalto site closest to them on the map.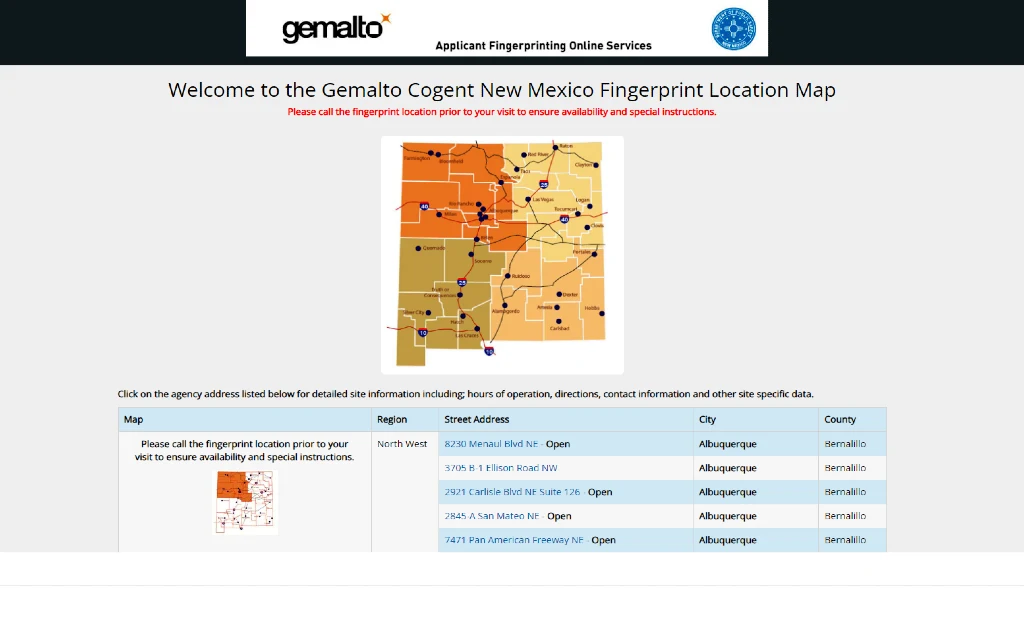 Manually – This option is suitable for those who are unable to go to a Gemalto location or live in another state. They need to get two inked fingerprint cards from their local sheriff's office or a police station. Then, they create a Gemalto account. After they make their payment, an individual needs to mail their fingerprints to this address:
Thales, APS Dept. 165
2964 Bradley St.
Pasadena CA 91107
The NMDPS provides manual fingerprinting services, too. The price is $9.00 for the first couple of cards, and the price for additional cards is $2.50. The address of its headquarters is:
New Mexico DPS HQ
4491 Cerrillos Road
Sante Fe NM 87507
Residents and non-residents can call 505-827-9181 or send a message to [email protected] if they need help with the fingerprinting process.
Later in this article, readers will learn how to retrieve criminal records from other sources like the courts, offender searches, and background checks.
How to View Criminal Mugshots & Pictures in New Mexico
By being on the lookout for mugshots, people can assist law enforcement in catching absconders. They may also be able to spot someone known to them and help them out in any way possible.
The New Mexico State Police (NMSP) has a Facebook page where users can view photos of individuals who were arrested or on the run.
Someone can also conduct research through search engines like Bing or Google. They type the words "New Mexico mugshots." This technique shows many websites from county jails, news sites, and detention centers.
For example, the San Juan County Adult Detention Center Detainee Inquiry allows site visitors to locate an inmate by name, subject number, booking number, and housing facility. They can also filter results by booking date and in-custody status. This pulls up a list of inmates and their photos.
New Jersey locals can also consider checking the morning or evening TV news or paper for criminal mugshots.
New Mexico's Laws on Juvenile Criminal Records
Juvenile criminal records aren't accessible by the public. Plus, according to New Mexico Statute § 32A-2-18, a minor labeled an adjudicated delinquent is not a convicted offender.3
Only the subject, their parent(s) or guardian(s), law enforcement, and court personnel can access juvenile records. Upon reaching 18 (or two years after they finish their sentence), a juvenile criminal record is automatically sealed per New Mexico Statute § 32A-2-26.4
See if You or Someone Else Has a Warrant in New Mexico (Free New Mexico Warrant Search)
If an individual or someone they know has a warrant out on them, they can check many sources and turn themselves in, leave a tip, or dispute the arrest or bench warrant.
For arrest warrants, people can enter the words "Most Wanted New Mexico" into a search engine, which brings up several correctional department and sheriff's office websites. One of the results is the City of Santa Fe Most Wanted page, which has a YouTube link dedicated to Santa Fe fugitives.
The New Mexico Corrections Department (CD) keeps a list of most wanted absconders that can be downloaded from its site.
The Federal Bureau of Investigation (FBI), Albuquerque features profiles of those who are terrorist suspects, crime fugitives, or missing persons.
Someone may choose to conduct another online search if they want to focus on bench warrants. They can type "New Mexico warrant search" and check out the New Mexico Human Services Department's Bench Warrant Program. It carries an Excel file listing those behind on child support payments.
Residents with any possible traffic warrants can consult the New Mexico Courts.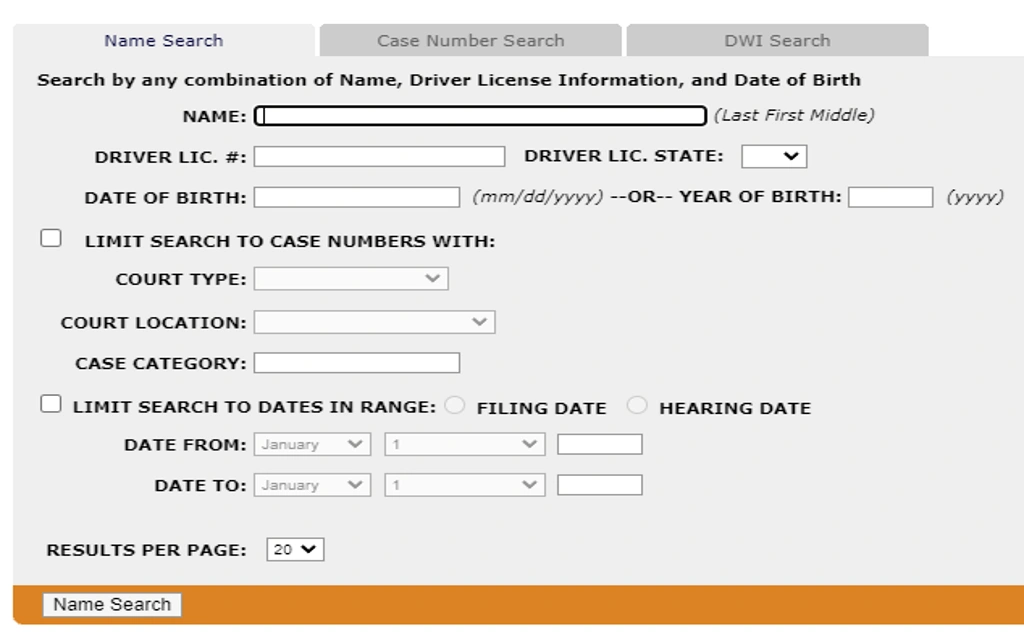 Users can search by name, case number, or DWI status through its case lookup tool. They can make any payments through the New Mexico Fines and Fees page to avoid a possible arrest.
Check for Sex Offenders in New Mexico (Using the Sex Offender Registry)
The NMDPS offers an online database of New Mexico registered sex offenders. (It redirects to the Community Notification site where users need to click the "Search for Offenders in Your Area"  and the captcha buttons to be taken to the ICrime Watch website.)
In addition to locating an offender by city, phone number, and other categories, people can search for an offender by incarceration status. They can even opt for email alerts to keep posted about when an offender moves close to their address.
Those interested in expanding their search outside New Mexico can use the Dru Sjodin National Sex Offender Public Website. Site visitors can conduct their research in areas like the U.S. territories and Washington D.C. in English or Spanish.
New Mexico Background Check Information
A background check is mandatory for many occupations as well as renting a home, keeping a self-defense weapon, and applying for a loan. Someone's educational background, credit history, and former employers are some examples of information that comes up on a typical background check.
Readers can refer to the instructions outlined in the criminal history section to obtain a fingerprint background check. (Applicants associated with the New Mexico Department of Health (DOH) have to be registered by their employer before using the electronic or manual fingerprinting methods. They can verify their registration via the Gemalto registration web service tool.)
If someone wants to retrieve their New Mexico arrest record, they need to complete and submit an NMDPS Authorization of Release Form. Each record check costs $15.00, and it has to be overseen by a notary public. They can print out an English or Spanish form.
Anyone applying or renewing a concealed-carry license can register for the fingerprinting process through Gemalto. (Gemalto registration costs $44.00 for private citizens and $8.30 for law enforcement officers and military members.) They also need to submit a concealed-carry application.
Navigation New Mexico Court Records & Cases (Find Free Marriage Records in New Mexico)
Court records in New Mexico mainly consist of pending trials, any outstanding bench warrants, and the names of the plaintiff and defendant in a specific case. Many court records are public New Mexico state records except for those that are non-disclosed or sealed.
The Judicial Branch of New Mexico is comprised of seven courts:
The Probate Court works with estate and informal probate cases.
The Municipal Court involves local ordinance situations like traffic violations, DUIs, and mild offenses.
The Bernalillo County Metropolitan Court deals with tenant/landlord disputes, domestic violence, misdemeanors, and first appearances of felonies.
The Magistrate Court handles DWIs, contracts, misdemeanors, and preliminary hearings of felonies.
The District Court is associated with juvenile jurisdiction, property rights trials, misdemeanors, and mental health situations.
The Court of Appeals presides over administrative agency appeals, juvenile trials, non-capital criminal cases, and civil trials.
The Supreme Court is based in Sante Fe and makes the final decisions of court rulings. It also has the power to remove public officials.
Where & How to Find New Mexico Court Records (Search Free New Mexico Divorce Records)
Anyone who needs a court record has many options at their disposal. For example, people can use the aforementioned New Mexico Courts case lookup feature. Also, it only possesses records from 1997 and later. Interested parties can complete a public records request to access older electronic documents.
The judicial branch's SOPA (Secured Odyssey Public Access) holds records kept in the following courts:
District Court
Magistrate Court
Metropolitan Court
Appellate Court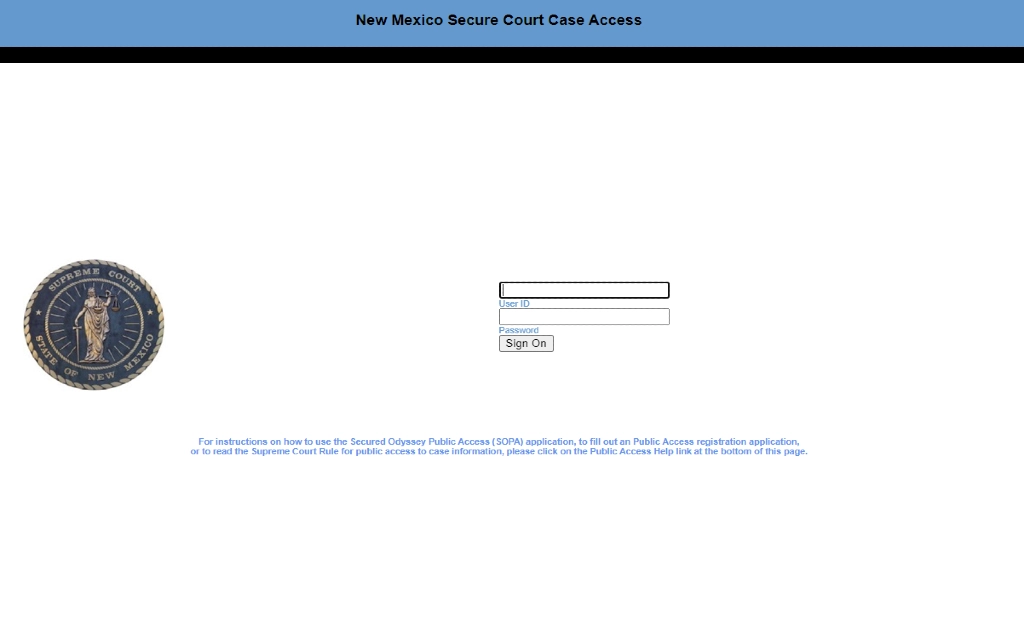 However, it requires registration and is available only for people involved in certain specialties like law and the media. Before they're permitted access to the platform, authorized individuals have to submit an application and receive their login credentials. Below are the required applications:
Those who have questions or comments about record retrievals should visit any of the court websites and contact them by phone or email.
How to See Who Filed Bankruptcy in New Mexico
New Mexico residents can view bankruptcy records at the US Bankruptcy Court of the District of New Mexico. It's located in Albuquerque, and it offers public computer terminals.
Patrons can obtain paper copies of records that date earlier than 2003 for $0.50 a page. Nevertheless, this process can take a couple of days to execute. They can use the copy request form to order copies. (Customers can also use this form for certified ($11.00/document) and exemplified ($23.00/document) copies, too.)
The Public Access to Court Electronic Records (PACER) allows people to track records from the comfort of their private residences. They can buy documents in HTML or PDF formats at $0.10 a page. Not only is this convenient; it's cost-effective. People can waive their fees for a certain period if they owe less than $30.00 in a quarter.
New Mexico Inmate Records (Incarceration Information)
Over 7,270 inmates dwell in New Mexico's city and county jails. There are about 6,723 inmates in the state's prisons.5
New Mexico inmate records typically contain booking details, facility location, and aliases. This information can assist correctional facilities in deciding if a particular inmate is suitable for early release from jail or prison.
Search Recent Arrests & Jail Inmates in New Mexico
Residents can use their favorite search engine to locate an arrestee or jail inmate. They can enter the terms "New Mexico arrests and inmate search" and pick a sheriff's office or police department from the results. For instance, the Sandoval County Detention Center has a jail roster. Site users need to click "Jail Roster" to receive the inmate list, which comes in a PDF format.
If someone in New Mexico was recently a target of a crime, they can become a member of Victim Information & Notice Everyday (VINE). Crime victims and their loved ones receive alerts of an inmate's transference to another institution or release date. They also have contact information of various local and state victim resources.
How Do I Find a Prisoner in New Mexico?
The New Mexico CD provides a simple offender search tool.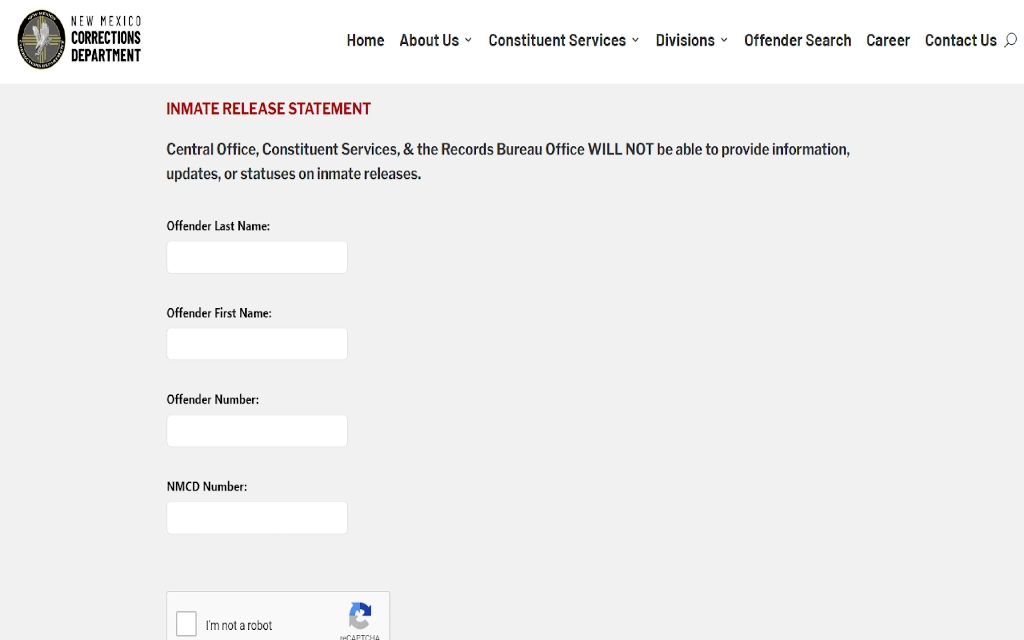 All that's required is an offender's name, offender number, and NMDC number. The search results show those who are currently in New Mexico DC custody or on probation or parole.
Visiting a Prisoner in New Mexico
Once they locate their imprisoned friend or family member in an NMDC facility, many people would like to visit them. However, there are specific procedures that both inmates and their loved ones have to abide by before seeing each other.
For instance, inmates can have up to 15 approved visitors. (Inmates with more than 15 family members are exempt from this rule.) Also, prospective visitors have to complete an application, bring approved identification, and adhere to the NMCD dress code.
Sending Care Packages to New Mexico Prisoners
Relatives and friends can make their loved ones' prison sentences easier to tolerate by sending them treats. This service is provided by Union Supply Direct. Each quarter, they can order food like cereal, drink mixes, coffee, chips, seafood, and other products. Individuals can place package orders through the website or mail an order form to the below address:
NM Quarterly Program
Dept. #610
PO Box 619059
Dallas TX 75261
Note that only approved visitors can order care packages for inmates. If individuals have any questions, they can contact them via email or phone:
NM Quarterly Program
Ph: (562) 361-5734
Email: [email protected]
They can also consult the rules behind the food program.
Telephone Communication
For many people, there's nothing great like hearing the voice of someone they care about, especially if they're currently serving time in prison. All calls have 20-minute limits. Domestic calls cost $0.65, and international calls cost $5.00. Individuals can create an account via Securustech to buy phone time. Additionally, they can call or email them:
Securustech
Ph: (800) 844-6591
Email: [email protected]
Sending Money to Prison Inmates
Those who send money to inmates have to be on an inmate's approved visitor list. Plus, funds need to be in the form of a money order only. Once received, money orders are deposited by correctional institutions into inmates' accounts.
Getting Vital Records From the New Mexico Department of Health
Locals may seek the New Mexico DOH, Bureau of Vital Records for documents related to adoption records, death records, birth records, divorce decrees, and marriage decrees.
Who Can See Vital Records in New Mexico?
Birth and death records can be seen by anyone as long as they're at least 100 years old and 50 years old respectively6,7. Marriage and divorce documents are public New Mexico state records.
How to See if Someone is Married or Divorced in New Mexico
Some people likely had a childhood friend or acquaintance they haven't seen for years and are now wondering if they're married or divorced. To obtain a marriage record, they have to contact the clerk's office in the county where the marriage occurred.
Divorce records can be obtained from any district court in the district where a former couple dissolved their marriage. To request their own divorce decree, site visitors can go to the NM Courts self-help form page, scroll down until they see the "Final Decree of Dissolution of Marriage," forms, and click "Open File" to download them and print them out:
How to Get Get Copies of Death & Birth Certificates in New Mexico
If someone needs a copy of a death or birth certificate due to a lifestyle change or misplacing it, they can purchase one through the state's Bureau of Vital Records. However, only immediate family members like spouses, siblings, parents, and grandparents can request these records. They can be retrieved in-person, by phone, online, or by mail:
In-person- People can stop by the Santa Fe branch at this address:
New Mexico DOH
2554 Camino Ent.
Santa Fe NM 87505
They can also visit one of these locations. (Death certificates have to be ordered from the Santa Fe branch.) The search fee is $10.00 for birth certificates and $5.00 for death certificates.
Phone or Online– Customers can place a phone order via VitalChek by dialing (877) 284-0963. They can also order through its website and have their certificate delivered by USPS or UPS. The cost for USPS delivery is $26.00 for birth certificates and $21.00 for death certificates. UPS delivery for birth certificates is $44.50 and for death certificates, it's $39.50.
Mail– Patrons have to send an application to the DOH's mailing address:
New Mexico DOH
PO Box 25767
Albu. NM 87125
Applications are available in English and Spanish:
In addition, patrons need to provide valid I.D.s when requesting birth or death records. Here's a list of acceptable documents.
Residents can contact the New Mexico DOH by phone with any comments or questions:
New Mexico DOH
Ph: (505) 827-0121, (866) 534-0051
Searching for public information seems complex at first glance, particularly if it involves looking up someone's records. By knowing the intricacies of this process, people can find it easier to hunt down New Mexico state records of anyone, including their own.
1National Freedom of Information Coalition. (n.d.). Florida FOIA Laws. Florida FOIA Laws. 23 June 2022. Web <https://www.nfoic.org/new-mexico-foia-laws/>
2Criminal.com. (2022). New Mexico Criminal Records. Records. 23 June 2022. Web. <https://criminal.com/records/new-mexico/>
3The Papillon Foundation. (2022). New Mexico Juvenile Criminal Record Forms–Adjudicated. Juvenile Forms Adjudicated. 24 June 2022. Web. <https://www.papillonfoundation.org/criminal-record-resources/new-mexico/juvenile-forms-adjudicated>
4Justia US Law. (2016). 2016 New Mexico Statutes Chapter 32A – Children's CodeArticle 2 – DelinquencySection 32A-2-26 – Sealing of records. Section-32a-2-26. 24 June 2022. Web. <https://law.justia.com/codes/new-mexico/2016/chapter-32a/article-2/section-32a-2-26/>
5National Institute of Corrections. (2019). New Mexico 2019. 2019 National Averages. 24 June 2022. Web <https://nicic.gov/state-statistics/2019/new-mexico-2019>
6New Mexico Department of Health. (n.d.). Birth Certificates. Vital Records. 24 June 2022. Web. <https://www.nmhealth.org/about/erd/bvrhs/vrp/birth/>
7New Mexico Department of Health. (n.d.). Death Certificates. Vital Records. 24 June 2022. Web. <https://www.nmhealth.org/about/erd/bvrhs/vrp/death/>